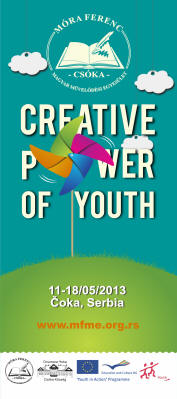 Creative power of Youth
We successfully completed the Project "Creative power of Youth" which had Training course as its main activity designed for unemployed youth or youth worker and youth leaders working with unemployed youth supported by European Commission through Youth in Action Programme.
For seven day participants from different European countries had fun, learned, shared experiences and gained new skills in making art hand made products and opening and leading their own small businesses and experienced the Coka and its surrounding with Mora Ferenc cultural society as host organization.
The Training course had the aim of empowering unemployed youth and raising their self-confidence by gaining different knowledge and skills. We had hand-craft workshops (clay and making felted wool and everyday objects like nags and jewelry from it). Participants also gained basic skills needed for getting employed (making a CV, following letter and motivational letter)
As material "proof " of all we have done remained the photos, short film, brochure, exhibition of their work that participants have organized for local community and examples of their good work.
All activities during Training course were based on principles of non-formal education principles of learning by doing.